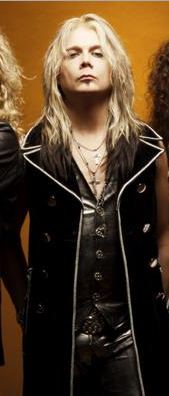 Voice type: Tenor
Sung range: D2-B♭5
Significant high notes:
B♭5 ("Vampire's Call")
A5 ("Line of Fire")
G♯5 ("I Believe in You")
G5 ("Highway Star" live at Dalhalla 2010, "Your Blood Burns in Hell")
F♯5 ("Metal Will Stand Tall", "Sweet Enemy", "We Are One")
F5 ("Don't Give Up on Love", "Line of Fire")
E5 ("Song for You")
E♭5 ("Streets of Fire")
Significant low notes:
B2 ("One Out of Ten")
B♭2 ("Days of Heaven")
A2 ("Carry On", "Unforgettable")
G♯2 ("Carry On")
D2 ("Pilot of the Storm")
.......................................................
*Orange marks notes with questionable registers: absolutely no use figuring out these.
*Blue marks probable non-modal notes.
*Red marks extremely bad, unimpressive or unintentional notes.
*Italics mark non-sung notes.
vilhja wrote:The vocalist of cool glam rock band The Poodles. Jakob is a great old-school rock belter in the style of Bon Scott, but he is also capable of bringing out a classic power metal scream.

Guest

Guest





No comments?!?! This guy is so great

Guest

Guest





Orange notes

Guest

Guest





That's better
JAKOB SAMUEL AND ADAM LAMBERT - THE MEN WITH NO COLORS
Actually Lambo sings some pretty low fry on Pop that Lock

Guest

Guest






Similar topics
---
Permissions in this forum:
You
cannot
reply to topics in this forum