Voice Type
: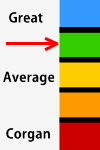 Vocal range
: B2-C5
WORK IN PROGRESS!!
1997 (albeit recorded in 1995)
The Power of Failing
: 85%+ checked, need to listen to the whole thing one or two times more
1998
EndSerenading
: Notewatching in progress
Significant high notes:
(i think i will start the notes at G4 lol)
D5
("GJS")
C5
("80-37", "Aletter", "GJS", "TheLastWordIsRejoice", "WakingToWinter")
B4
("Dolorosa", "Gloria", "GJS", "TheLastWordIsRejoice")
B♭4
("Palisade")
A4
("80-37", "Aletter", "Dolorosa", "Five, Eight and Ten", "Gloria", "GJS", "If I Could", "July", "Palisade", "Parking Lot", "Slower")
G♯4
("Forlvadel")
Significant low notes - TO BE HONEST I didn't pay attention to his lows for now, surely a lot of new notes will come soon:
(same goes for the lows I'll prob start at D3)
C♯3
("Gloria", "Take A Picture Now")
B2
("Parking Lot")
G♯2
("
Random live vocalizations
")
.......................................................
*Purple marks notes obscured in the mix.
*Blue marks falsetto notes.
*Italics mark non-melodic notes.
Chris Simpson is the front band of the emo rock band Mineral, active from 1994 to 1997 and..."rebanded" in 2014 for the pleasure of many, many emo rock enthusiasts.
His voice - paired with top notch songwriting - could be described as acrobatic, driving, powerful; delivers exceptional amounts of emotion, honestly more the exception than the rule for most rock bands.
Maybe the essence of mid-90's emo rock. So much passion in the delivery.
That chorus.
Great melodic belts between G4 and D5 starting from 4:00.
Last edited by Stoner on Sun Nov 30, 2014 2:19 pm; edited 1 time in total



Posts

: 467


Join date

: 2012-09-23


Age

: 23


Location

: Lille, France



I love Chris Simpson's voice and Mineral as a band. When I listen to them I always think back to the mid 90s beach atmosphere back in southern California even if they are from Austin. His voice can sound like Tom Petty at times in songs like "Five, Eight, Ten" and "Silver" when he hits his upper fourth octave notes. Haha I got a good chuckle at your scale of good and bad singers with Corgan as a category.



Posts

: 12


Join date

: 2014-03-20



The reason we can't have nice things




Posts

: 6790


Join date

: 2012-11-29


Location

: ChiCAHgo



@Cliche: yeah i love his voice too, actually i usually can't stand what we used to call "mid tenor" and higher voices, too girly and whiny, but this guy voice is an exception. So much emotion, control, and doesn't overuse his high range and belts annoying D5s all day long. He uses his higher notes smartly and with moderation.
btw help with notewatching is welcomed if you know chris simpson well...notewatching takes time and i'm a busy man lol
@wanderlust: like two months ago i thought throughly on what system is the best to describe a voice simply with the more precision and the less masturbation possible, and i think mine is very good indeed



Posts

: 467


Join date

: 2012-09-23


Age

: 23


Location

: Lille, France




Similar topics
---
Permissions in this forum:
You
cannot
reply to topics in this forum