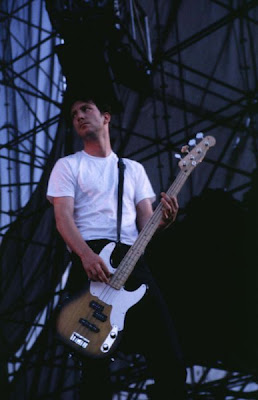 Voice type: Baritone
Vocal range: B1-E5
High notes:
E5 ("Try")
C♯5 ("Half")
C5 ("Try")
B4 ("Half")
A4 ("Curtis Bligh", "Try")
G♯4 ("Half")
F4 ("Baron Robber", "Stone Pale")
Low notes:
B♭2 ("Loose Ends", "Try")
A2 ("Attrition, "Down Undershoe")
G♯2 ("Collide", "Try", "Veritas", "Who Do I Kill?")
G2 ("The Great Syrup Accident")
F♯2 ("Mona Bone Jakon", "Stone Pale", "Veritas", "Who Do I Kill?")
E2 ("Attrition", "Curtis Bligh", "Stone Pale")
E♭2 ("Keystone", "Veritas")
C♯2 ("Baron Robber", "The Train You Can't Win")
C2 ("Neverone Blues")
B1 ("The Train You Can't Win")
.......................................................
*Purple marks notes in backing vocals.
*Italics mark speaking.
An amazing musician/songwriter, plus an interesting, raw voice from my favourite band of all time.
I always had the idea that Ben Shepherd had the highest voice in Soundgarden due to his awkwardly high, even otherworldy vocal take on "Half", but listening to his solo music, he actually possesses a Captain Beefheart-esque deep, robust baritone growl, as heard on songs like "Neverone Blues". His voice has really trailed down since the 90's, but his lower register always seemed to be there. As a vocalist, he always preferred to hide under Cornell's shadow, but his other projects feature great voice experimentation and raw singing.
I recommend checking out his solo music, it's very unique! He was also one of the leading members of the alt. rock group Hater, credited for the majority of lead vocals along with two other musicians. Wonder if he sings the lead on all of their songs? Some of the songs feature higher register singing by him, and it's actually not too bad! I still have to check out more of their songs, but here's some foretaste of Shepherd's music and singing.
Highlight performances:



What the hell is this, for real? Ben sang this number, and it really sounds unlike of anything else he's ever recorded with a crystal-clear tenor sound combined with an almost transcendent backing track. Very cool singing idea either way, fits the song's mood perfectly! Maybe Cornell shared him a trick or two about wailing? He also sings surprisingly high on "Try" with a similar sound. Then, he went from "Half" to this:



Amazing lower register used well in a great song! Trails down to a freaking B1, and it sounds like nothing to him!



A great live performance of a memorable track recorded rather recently. Deep, emotional singing.



Credited as one of the three guys carrying the lead vocal duties on the album, I wonder whether he sang this one or not? Very Kurt Cobain-like raspy belting heard on here, could it be Ben on the board for the lead? Here's one I'm sure of featuring him on lead:



Another great track! His vintage lower register is audible here.



Here's the previously mentioned second example of his wailing, off a song called "Try". Snarly A4s and tenor high Cs, plus a brief E♭5... Unexpected! Weird voice full of potential.
Last edited by Rapport Rapturer on Thu May 22, 2014 7:42 pm; edited 1 time in total
Are there any cool harmonized vocals of him and Cornell in his Soundgarden days? I'd like to see that  

Range Advisor




Posts

: 747


Join date

: 2013-10-20


Age

: 22


Location

: USA



I'm afraid there aren't... Cornell's always handled most of the vocals all by himself, sometimes backed up by very muddy, raw backing of Matt Cameron, like on "Spoonman".
Doesn't Sheppard do the "speak the rythm while you can" backings on that one?
Range Advisor




Posts

: 1876


Join date

: 2012-09-08


Age

: 22


Location

: The land of the Diego



Cameron does them live, as far as I know.

Similar topics
---
Permissions in this forum:
You
cannot
reply to topics in this forum