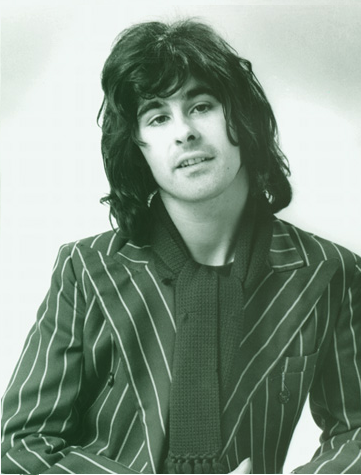 Vocal Range
: B♭2 - B♭5
Voice Type
: Tenor
Significant High NotesB♭5
("Rock Of All Ages")
A5
("Rock Of All Ages" live BBC)
G♯5
("Birthday" live BBC)
G5
("Rock Of All Ages", "Long Tall Sally" live, "See Saw Granpa", "Maybe Tomorrow")
E5
("No Escaping Your Love", "Lucille" live, "Revolution" live BBC, "Blind Owl", "Arthur")
D5
("Baby Blue", "Money", "Rock Of All Ages", "Proud Mary" live BBC, "I Can't Take It", "Maybe Tomorrow")
C♯5
("Believe Me", "Blind Owl")
C5
("Take It All", "Flying", "I'd Die Babe", "It's Over", "No Escaping Your Love", "Birthday" live BBC)
B4
("I'm In Love", "Without You", "Take It All", "Money", "Feelin' Alright" live)
B♭4
("Rock Of All Ages", "Lucille" live, "Long Tall Sally" live, "Maybe Tomorrow")
A4
("I'm In Love", "Blind Owl", "Summer In The City" live BBC)
Significant Low NotesE3
("King of the Load (T)", "Angelique")
D3
("Sad Tomorrow")
C3
("Water Lily")
B♭2
("Carry On Till Tomorrow")
    Tom Evans is arguably the most talented vocalist in the 70's power-pop band signed to Apple Records, Badfinger. Being paired with the baritenor Pete Evans, tenor Joey Molland, and drummer Mike Gibbons, Evans had the highest singing voice in the band; he is archetypical of Paul McCartney, being the bassist and tenor of the group.
    Much like his partner Pete, he doesn't tend to sing low too often, but I'd go as far as saying he sings low a bit more often, and he actually sings second octave notes. Much of what he wrote did not require a challenging vocal performance, but he still provided many fifth-octave harmonies for songs written by other members.
I would add more notes, but it's getting late. This'll have to do for now.
.......................................................
*Purple marks notes in backing vocals. I'll probably be more likely to purple notes in harmonies when it's less clear who sings them, and when I'm picking out intricate harmonies. In most cases, it's two-part harmonies, so it shouldn't be too common on this thread.
*Italics mark non-melodic notes.
Considering he has no solo albums and very few live performances available, I think this thread is just about exhausted.
Admin




Posts

: 3051


Join date

: 2013-04-27


Age

: 21


Location

: Lake Isle of Innisfree




Similar topics
---
Permissions in this forum:
You
cannot
reply to topics in this forum